Helping people tell their stories has always been a passion of mine. I've been doing this for years as a career advisor to alumni from the University of Illinois. But, those stories focused on the world of work and my clients' professional lives.
I'm intrigued by the research questions that arise within family history and wish to dive into these questions more deeply. The John T. Humphrey Scholarship will help me achieve these goals. The American Genealogical Studies courses would firm-up the foundation of the education that I have already built, fill in gaps, and provide the recommended structure for citing and reporting on the information I collect.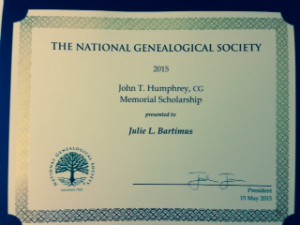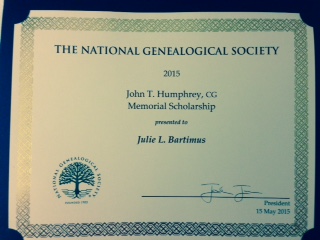 I've been researching my family since 2003 with the goal of telling my ancestors' stories. But, I also want to help others tell their family's stories, help them organize their research, and move beyond what they could easily find online by themselves.
I enjoyed participating in the conference today and receiving the scholarship at tonight's banquet. Thank you to everyone I met who shared their stories with me.
I look forward to more fully digging into genealogical topics and practices and pursuing certification.
I also look forward to sharing that journey here in the blog.