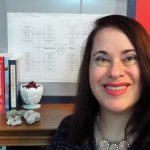 I started researching in 2003 and enjoy discovering new sources, understanding stories, and solving research problems.
Memberships
DuPage County Genealogical Society, www.dcgs.org

DCGS Web Coordinator Since 2022
DCGS VP-Program 2017-2022

Chicago Genealogical Society
Illinois State Genealogical Society
National Genealogical Society
Polish Genealogical Society of America
Association of Professional Genealogists
Research Services
Contact me about research questions, organizational needs, and local Northern Illinois repositories for quick answers or quotes. I enjoy helping people tell their stories. Read more …
Hays Kinship Association
My goal for the association is to connect, support, and collaborate with researchers targeting Hays, Hayes, Hay, etc to find common and unique lineages. I currently have 42 Hays (1806-2019) and 18 Hayes (1817-1886) surnames in my tree. (As of 26 June 2020). You may think someone changed their surname. But, these are in fact two different lines in my tree. In building a space to collaborate, I am developing Anchor Ancestor profiles to highlight the "Anchors" for my Hays and Hayes lines.
View my Hays and Hayes blog posts using the Kinship category.
Contact me at Julie at Hayska.org.
Daughter of Hays
"Hayska" also means daughter of Hays and represents my personal genealogical research. My primary research projects focus on:
Henry Hays (1808-1888)
Tracing Polish ancestors
Connect on Social Media