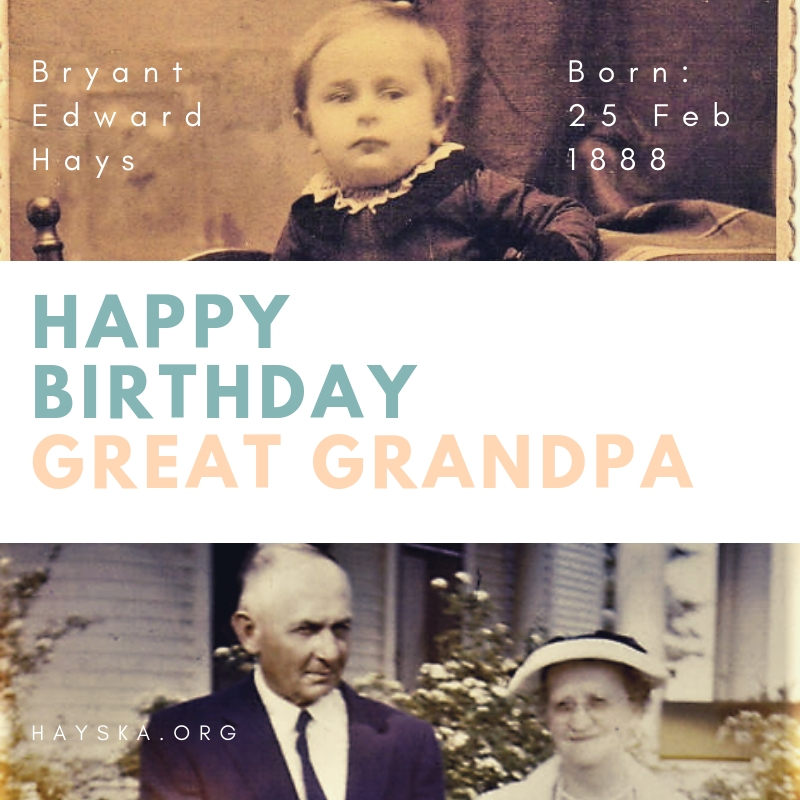 Bryant would be 131 years old today. His obituary tell a lovely story of his life.
POLO – Bryant E. Hays, a native of Polo, died this morning at three o'clock in a Dixon hospital after a long illness. He was born Feb. 25, 1888, in Polo, the son of Charles and Emma Bomberger Hays. He married the former Bessie Greenwell June 3, 1916. He was a farmer in the Polo area all of his life. Surviving are his wife; a son, Herbert of Polo; a daughter, Mrs. Robert Robinson of Washington; two brother, Harold of Polo and Max of Savanna; and seven grandchildren. Funeral service will be held at 2 p.m. in the Brown -Seidel Funeral Home with the Rev. Ben F. White, pastor of the Polo, Methodist Church, officiating. Burial will be in Chapel Hill Cemetery at Dixon. Friends may call at the funeral home after 7 p.m. Saturday.
~ "Bryant E Hays obituary," Freeport Journal-Standard, 4 Sep 1959, p. 2, col. 9; digital images, Newspapers.com (https://www.newspapers.com/clip/74798/bryant_edward_hays_obituary_18881959/ : accessed 27 Jan 2018).