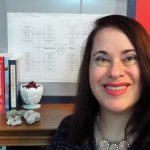 I started researching in 2003 and enjoy discovering new sources, understanding stories, and solving research problems.
Research Services
Contact me about research questions, organizational needs, and local Northern Illinois repositories for quick answers or quotes. I enjoy helping people tell their stories. Read more …
Hays Kinship Association
My goal for the association is to connect, support, and collaborate with researchers targeting Hays, Hayes, Hay, etc to find common and unique lineages. Use the contact form to let me know who you are and the line(s) you are researching.
Daughter of Hays
"Hayska" also means daughter of Hays and represents my personal genealogical research. My primary research projects focus on:
Henry Hays (1808-1888)
Tracing Polish ancestors
Connect on Social Media